It's no secret that pet parents are obsessed with their dogs. If you enter the home of any dog lover, you're sure to find pictures of their furry friend alongside other family photos and dog toys or accessories taking up space everywhere. What better way to celebrate this love and passion than gifting a pet parent a dog-themed item?
From customized jewelry to stylish pet-themed apparel, numerous unique pet gifts are available to make any dog owner happy. Take a look at the best gifts for dog lovers to show your appreciation for a friend's dog.
Personalized Dog Portraits
A personalized dog portrait is one of the most thoughtful dog presents you can give. It transforms your friend's precious pup into art, giving them a memento they can cherish for a lifetime. Many custom portrait companies have professional artists on staff to create artwork capturing the dog's personality. You can keep it realistic or add eccentric details, such as dressing up the dog as a royal prince or princess.
Many small businesses sell personalized dog portraits. Several artists use Etsy to sell custom prints. Crown & Paw also offers various themed dog portraits with over 150 options to choose from.
Customized Dog-Themed Jewelry
It's difficult for dog owners to leave their furry friends behind when they go out. Giving them customized dog-themed jewelry lets them carry a token of their pet at all times. There are many popular options, including necklaces, bracelets, and rings. Depending on the company, you can engrave a pet's name or paw print into the jewelry. Some will create custom charms of your dog or insert a photo into a dog tag-style charm.
Etsy is a great place to find customized dog-themed jewelry. Custom Paw Jewelry creates forever memories for dog parents by engraving ink prints of their pet's paws on select items. The Foggy Dog also sells engraved dog tags that can be worn on a necklace or bracelet.
Dog Breed Books and Guides
If you know someone who's a recent dog parent, a dog breed book or guide is a practical gift idea that can help them adjust to their new responsibility. Some books offer an overview of every dog breed, documenting their traits, exercise requirements, and life expectancy. For example, "Every Dog: A Book of Over 450 Breeds" organizes dog breeds into various categories, such as type and purpose.
Others may focus on a single breed to give pet owners a comprehensive idea of how to take care of it. "The German Shepherd Handbook" delves into everything you need to know about this famous dog breed. Amazon offers an extensive collection of dog breed books. You can also browse through Barnes & Noble or check out your local independent bookseller. If they don't have a book in stock, they may be able to order it for you.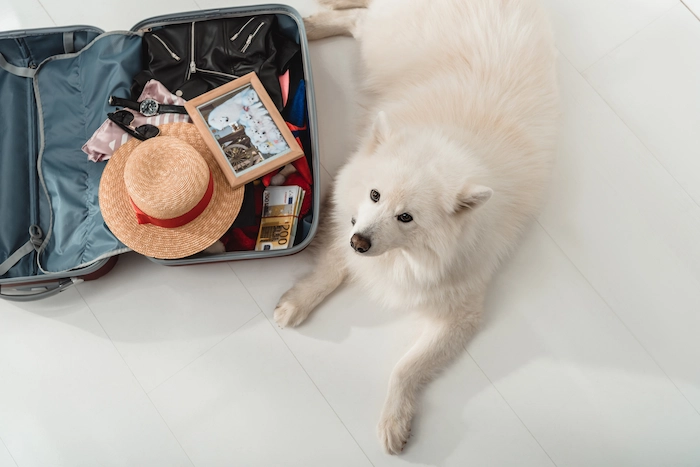 Dog-Themed Apparel and Accessories
Dog-themed apparel and accessories are great gift ideas for humans who prioritize style. Plus, you have so many options to choose from, including T-shirts, socks, and hats. A dog-themed tote bag is one of the best gifts for dog moms, providing storage for their pup's favorite chew toy and transportable water bowls for a fun afternoon at the dog park.
These fun and stylish gifts allow dog lovers to express their love for their pets uniquely. Chewy offers several items, including a customizable tote bag. You can also find apparel and dog gifts at Dog is Good.
Dog Lover's Subscription Box
You can find subscription boxes for almost any interest or commodity, including pet supplies. These boxes are filled with goodies and can be customized to fit any dog lover's needs, whether they're looking for a new squeaky toy, a comfy dog bed, or dog clothes for an upcoming special event.
A subscription box is a gift that keeps giving because it arrives each month full of new toys, treats, and surprise items. Several high-quality dog subscription boxes are available, including BarkBox, Bullymake Box, and BoxDog.
Custom Dog Pillows
A custom pet pillow enhances comfort and adds a personal touch to any dog parent's home. And you can customize it in so many ways, whether you choose to use a pet portrait or a family photo to decorate the pillow. Some even come in fun shapes, such as a bone or the shape of your dog.
Based in Chicago, All About Vibe sells handmade custom dog pillows in the shape of your dog. Petsies also sells dog-shaped pillows in various sizes with a high-quality image printed on both sides.
Donations to Animal Charities
If no one close to you has a dog or you're just looking for a way to give back, consider donating to an animal charity. Most animal charities are nonprofits and rely on donations to care for their animals, some of which have been abused or neglected. Your funds will likely be used to provide food, toys, beds, vaccinations, and other health-related services to animals.
This gift is one of the most meaningful and impactful ways to show your love for dogs because it helps these organizations give them a higher quality of life. A number of reputable animal charities advocate and care for dogs, including:
Halo Dog Collar
The Halo wireless fence and GPS dog collar uses advanced tracking and activity monitoring to keep tabs on your dog's location. It communicates with your dog by tracking its movements in your yard and prompting it to turn around by emitting an audible beep if it steps too close to the boundary.
Halo Collar was hailed as one of "The 8 Best Smart Dog Collars" on MarthaStewart.com. The collar's unique features, including a flexible fit for most dog breeds and customizable settings to match your dog's learning style, earned it recognition.
By downloading the app, you can create, edit, and enable up to 20 wireless fences for one or multiple pets at a time, a feature that landed it a spot on Forbes' list of "Best GPS Dog Trackers With Wireless Dog Fence." Training videos are also accessible to teach your dog about following boundaries, an inclusion that makes it one of "The 10 Best Dog Training Collars," according to PureWow.
For these reasons and more, the Halo collar stands out as one of the best gifts for dogs and their owners. It's more than just a collar—it's a commitment to safety, comfort, and peace of mind.
The Bottom Line
Whether it's for a holiday or birthday, there are several ways you can celebrate your dog-loving friend or family member, from a custom pet portrait to stylish apparel. Much thought and love go into choosing the perfect gift for someone, and adding a personalized touch emphasize how much you care.
Halo Collar is a gift that can be customized to fit any dog's needs, regardless of breed or size. The included training materials can also help dog owners bond closer with their dogs, making it a gift for both humans and pets. Check out Halo Collar and find the right fit for your dog today.