The greatest innovation in fences since…fences!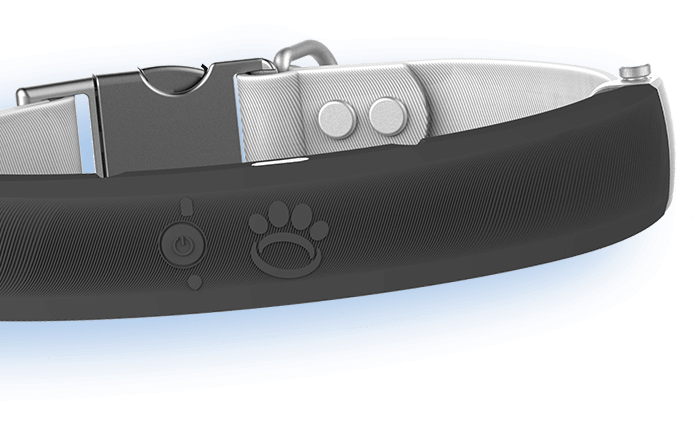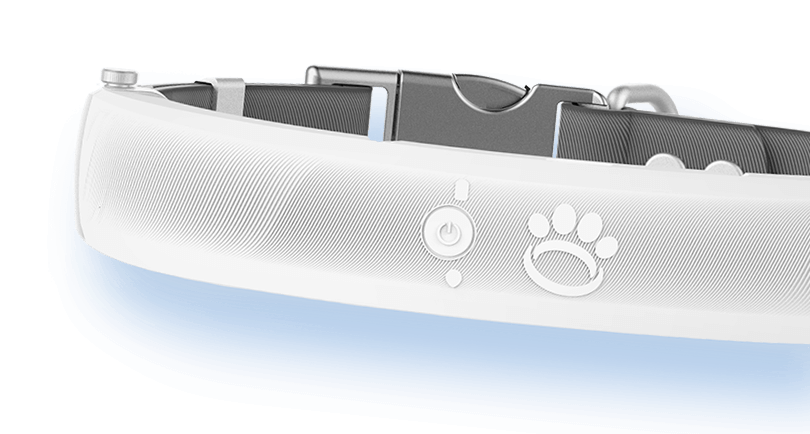 Don't just settle for notifications.
Halo Fences are real smart fences that actually
keep your dog safely inside!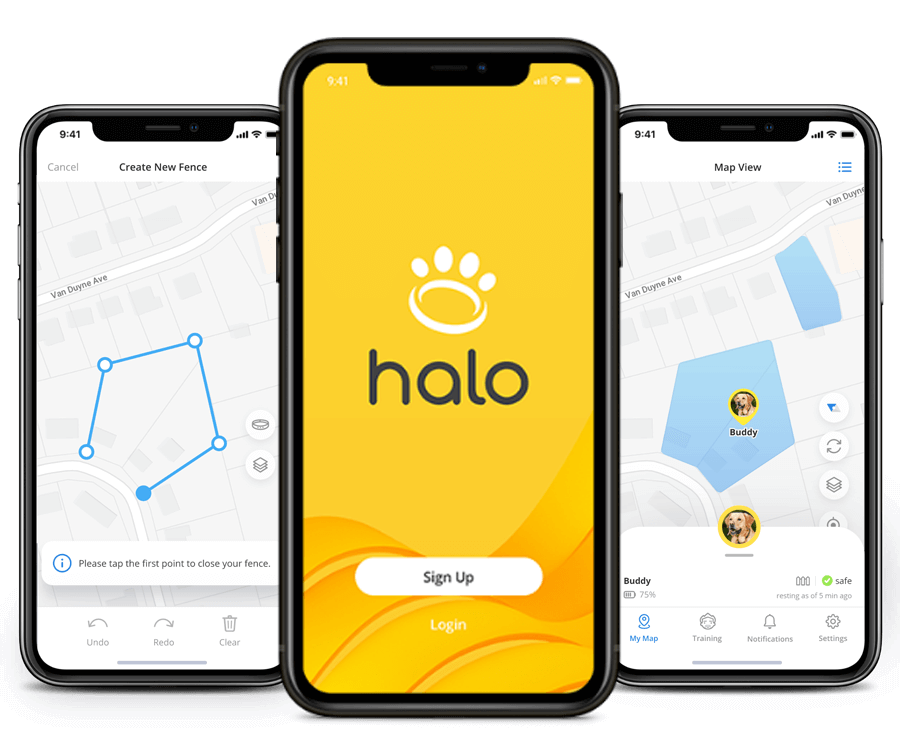 Smart Fences
Fully-closed virtual safe areas that allow your dog to safely roam off-leash inside the Halo Fences you create, so you and your dog have freedom and peace of mind any time, anywhere.
Safe Boundaries
Halo Fences are stored directly in your dog's Halo Collar and are fully-automated via GPS and the Halo Collar's internal logic. You never have to worry about your Wi-Fi or cellular connection affecting your fence boundaries.
Natural Guidance
Halo Fence boundaries communicate intuitively with perfectly-timed Prevention Feedback that you can customize for your dog's needs…and even uses Encouragement Feedback that can guide your dog back home!
Limitless Locations
Halo Fences use world-class GPS & GNSS systems, so there's no installation or digging required to set up a fence. Simply tap on the map in the app, or walk around the boundary to create a fence.
All Terrain Types
Because Halo Fences use world-leading GPS instead of wires, your Halo Fences can cross rivers, streams, driveways, or any terrain with ease.
True Portability
You can create Halo Fences virtually anywhere in the world, and your Halo Collar will track your dog's location accurately within 10 feet. You can create up to 20 fences anywhere you roam.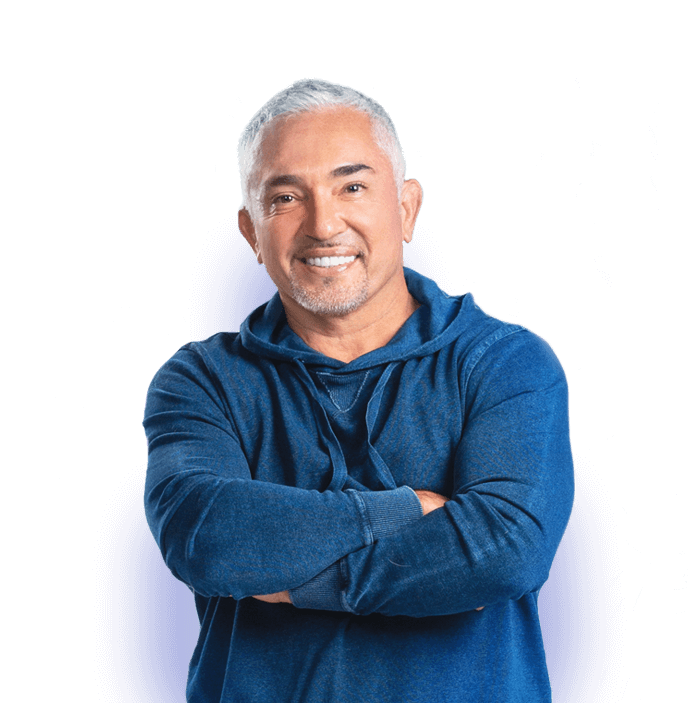 Follow Cesar's 21-Day Program
for the safest and most effective training methods.
4 Steps. 21 Days. A Lifetime of Safety.
Halo takes a holistic approach to boundary training that's more effective than any other. Following Cesar's guidance, you'll learn to master the Halo system in four steps 
Setup & User Training
Everything you need to get started with Halo quickly, while becoming the pack leader your dog needs
Introducing the Collar
Set your dog up for success by creating a positive association with their new Halo Collar
Indoor Training
Teach your dog to keep away from boundaries and come back to safety through indoor training
Outdoor Training
Use the same simple methods to master boundaries outside with your dog's Halo Fences
Start your Halo journey with Cesar's expert training just for you.
Your Halo User Training is an all-access pass to Cesar's world-renowned dog behavioral psychology methods. You'll learn what it takes to improve your relationship with your dog, become the ultimate pack leader, and the best pet parent. Learn to speak your dog's language through a series of Halo essentials quick-start lessons, all the way to optional advanced behavior training. 
Halo brings you easy-to-understand guidance straight from Cesar in a never-before-seen training format. With new premium releases each month, you'll be leading the pack like never before! 
Step-by-step training takes you right along with Cesar
Quick-start setup gets you up-to-speed on Halo Features
Advanced training helps you become a master pack leader
1. Track your progress right from the Halo App
2. Exclusive videos directly from Cesar  
3. Step-by-step tutorials to master Cesar's techniques
4. Bite-sized content in easy-to-follow looped videos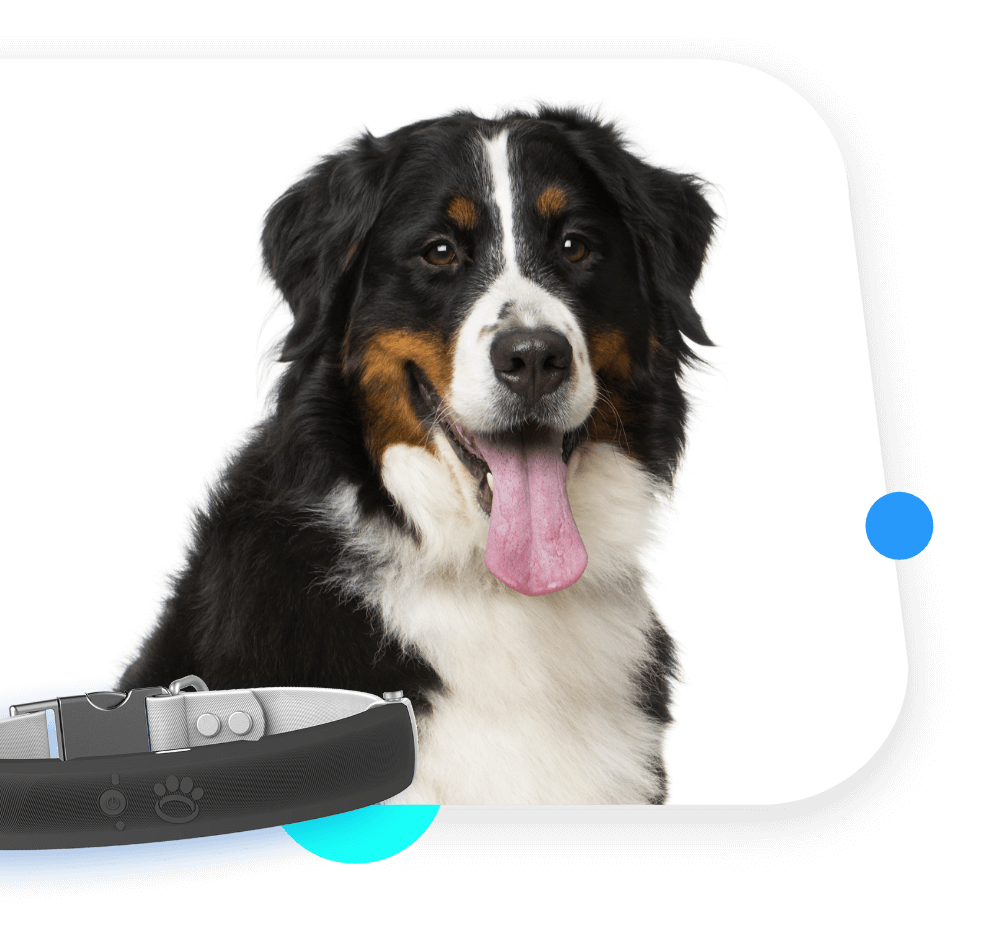 INTRODUCING THE HALO COLLAR
The Halo Collar was designed to give your best friend safety in style. You'll learn Cesar's methods to introduce the Halo Collar using positive associations. Then you'll find the perfect fit, and make sure your dog's self-esteem is through the roof!
With Cesar's guidance, you'll learn the expert methods you need in order to put your pup in a positive frame of mind and set them up for success.
Learn to build a stronger connection with your dog
Practice using positive association techniques
Set your dog up for safety and self-esteem
1. The Halo Collar flexes + bends for ultimate comfort
2. Adjustable collar strap can be cut for the perfect fit
3. Collar straps are easily replaceable as your dog grows
First, you'll learn to activate your dog's natural capacity to learn, and how to turn training into a bonding experience!
Indoor Halo Beacons communicate instantly with your dog's Halo Collar via Bluetooth, providing perfectly-timed guidance to teach your dog to keep away from off-limits areas and come back to safety to create positive associations and intuitive boundaries.
Start at the lowest level for each prompt type to learn what your dog needs and responds to best, and customize your dog's automatic feedback to suit their needs. Then when your dog does a great job, you'll learn how to reward your dog for the most effective training sessions.
It all starts in the home for the safest, most natural, and holistic approach to pet safety.
Learn to speak your dog's language
Balance intuitive boundaries and positive associations
Improve your bond of trust, respect, and love
1. Fully-customizable Warning, Boundary, and Emergency settings so your dog can react, learn, and stay safe before Emergency Feedback is ever needed
2. Custom prompts with 15 levels of volume and static, plus a wide variety of vibration types, sounds, and tones for every pet parenting style
3. 6 Types of Preventions and Encouragements for the most balanced training approach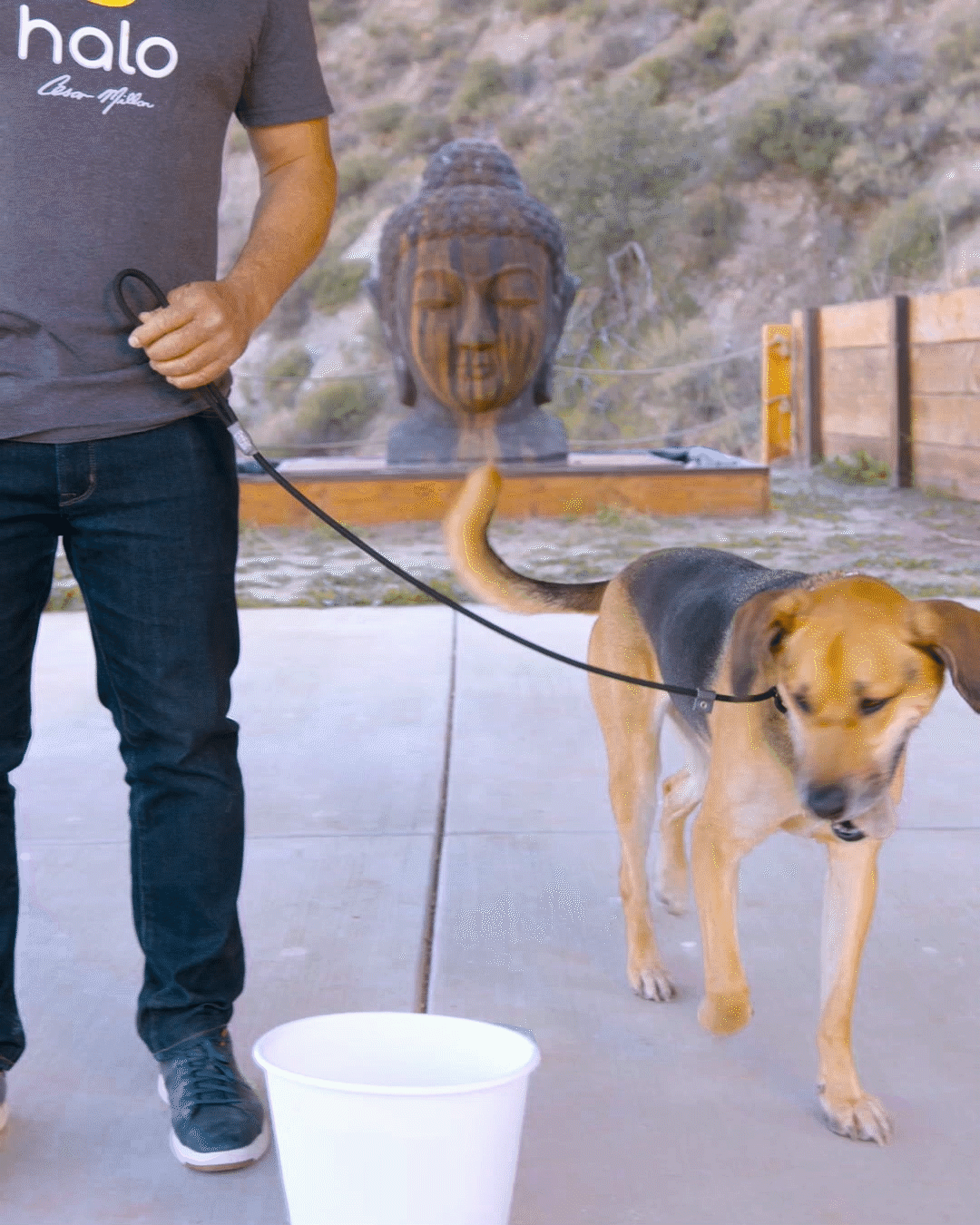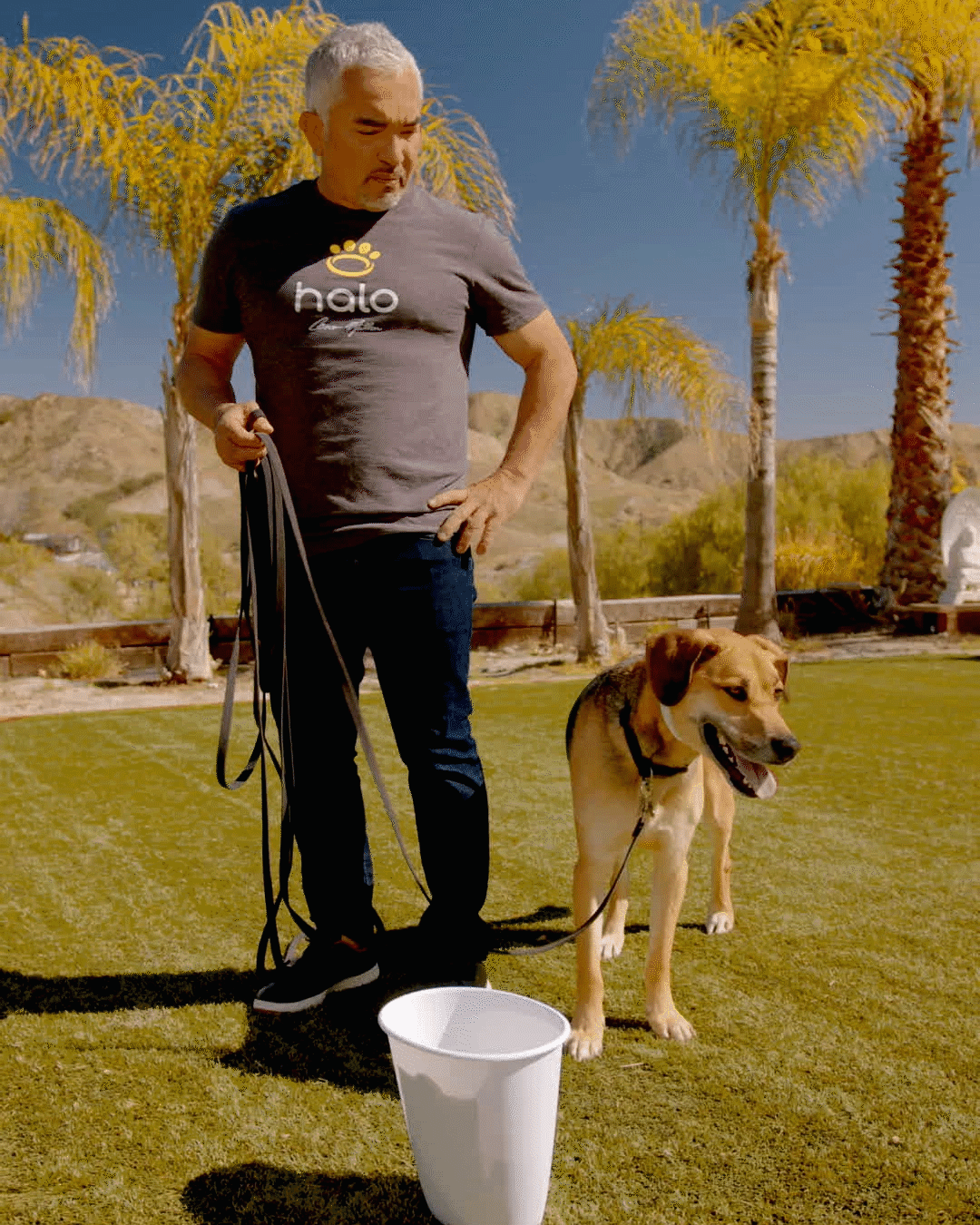 Practice Outdoor Training using the same methods your dog has already mastered inside! Halo Fences instantly communicate with your dog's Halo Collar, but Halo Fences use cutting-edge global GPS & GNSS systems to accurately locate your dog and provide Prevention Feedback at exactly the right time. 
Outdoors, you'll work with your dog's instincts to master distractions and keep improving positive encouragement to come back to safety. Together, these techniques work toward eliminating your dog's urge to run out of the fence altogether.
Even if your pup still has the urge to run farther than their fence, the Halo System will autonomously guide your dog back home! Your dog will never receive Prevention Feedback if they stop, turn around, or head back home. And on the way back, they'll receive Encouragement Feedback to let them know they're doing a great job. 
It's the most complete and comprehensive protection available for any dog, anywhere.  
Use the same simple techniques outside
Work with your dog's instincts to master distractions
Learn to fulfill your dog's needs so they never want to run out of the yard or safe area again!
1. Ultra-accurate GPS & GNSS locate your dog and provide automatic Prevention Feedback when needed
2. 10-15 feet of warning area before the boundary to give your dog plenty of area to turn back to safety
3. Halo Collar works autonomously to Prevent your dog from leaving and Encourage them to come home
4. GPS Halo Fences continue to protect your dog even if Wi-Fi or cellular connection drops
Halo keeps you up-to-date without keeping you
on the edge of your seat.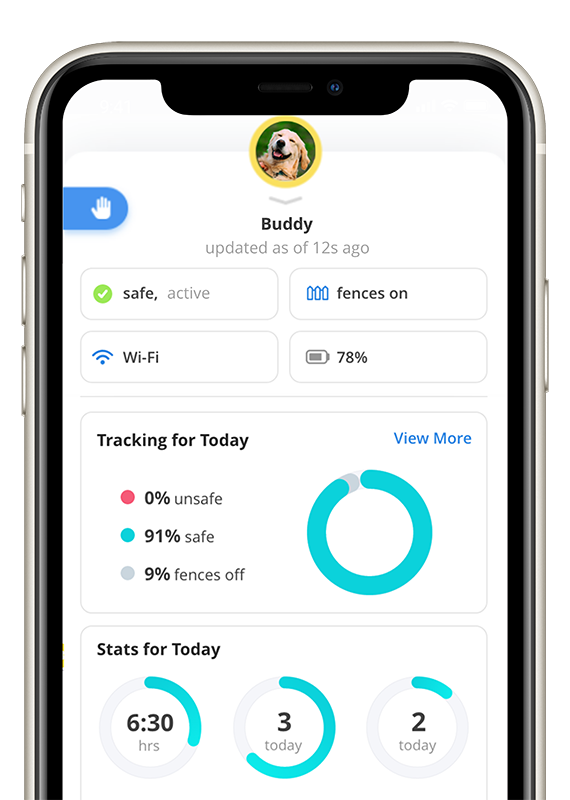 No collar does it all like Halo. In addition to the amazing smart fence, training, and GPS features, you can even use it as an all-in-one activity tracker unlike any other.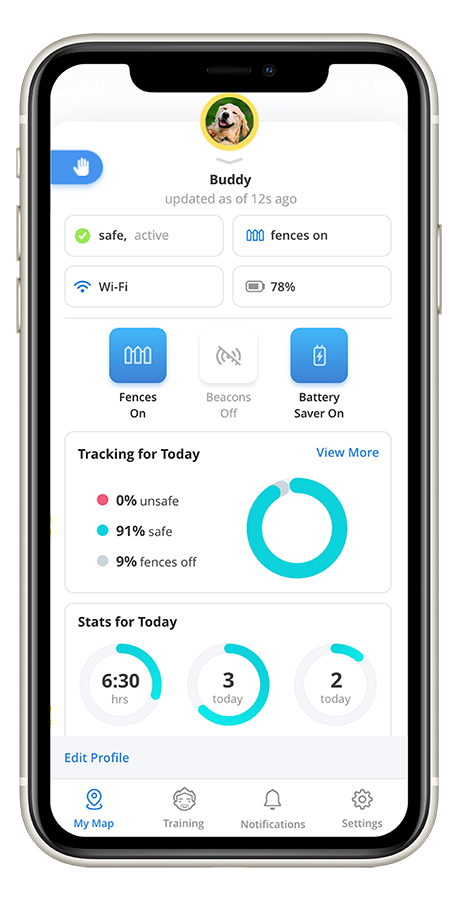 Safety Statuses
Real-time safety statuses tell you whether your best friend is safe at a glance. Fast and accurate tracking via GPS & GNSS, Wi-Fi, and cellular technology shows you what your pup is up to, even if you're not around.
Activity Tracking
Activity tracking logs your dog's location, number of walks per day, and time spent active, resting, or in the car. Keep up with how much exercise your dog is getting every day so you can stay on top of their health goals. 
Notifications
Keep up with your pup, but not on the edge of your seat. With in-app and push notifications, you'll stay in the loop about your dog's safety without having to worry that the notifications are all that stand between your dog and disaster. No more worrying that you'll need to panic or rush to bring your escape artist back home—Halo has you covered. 
Prevention Tracking
At Halo, we believe that safety has everything to do with prevention…and that includes preventing emergencies before they can ever happen. Your dog's Halo Collar even tracks the number of Preventions they receive (i.e. Prevention Feedback like Warning, Boundary, and Emergency prompts). So you'll know if there are patterns or problems that need to be addressed with a little more training TLC!