Whether you're traveling to a state park or local campground, dog camping is an exciting endeavor that can strengthen your bond with your furry friend. However, it can be challenging to know what to pack and how to keep your camping companion safe while in the great outdoors, especially if this is your first camping trip together. But that shouldn't hold you back from trying.
With proper planning, you can enjoy a dog-friendly camping adventure that benefits you and your four-legged friend. Take a look at the benefits of traveling with your dog and how to plan the perfect outdoor adventure.
Why the Halo Collar 3 is Your Ultimate Camping Companion
The Halo Collar 3 stands out as an indispensable tool when it comes to ensuring your furry friend's safety and well-being during camping adventures. Designed with the modern pet owner in mind, this GPS dog fence offers a suite of features that make it the perfect addition to any camping trip. Now you can take your pup with you on all your trips knowing you can make a virtual dog fence anywhere.
Real-time Tracking for Peace of Mind
One of the primary concerns of any dog owner while camping is the possibility of their pet wandering off. The Halo Collar 3 integrates real-time tracking that updates every second with AI-driven GPS software, offering unparalleled precision in monitoring your dog's location.
With the Halo Collar 3, you're not just tracking; you're ensuring your dog's safety with the best in modern technology.
24-Hour Battery Life for Extended Adventures
The Halo Collar 3 is designed for the long haul, boasting a robust 24-hour battery life, ensuring your dog's safety throughout extended camping trips. Paired with its all-carrier coverage, whether in a dense forest or atop a mountain, the collar's coverage makes certain you're never out of touch.
Leaving your dog behind when you go camping is a thing of the past. With the Halo Collar 3, you have a reliable and technologically advanced companion that ensures your dog's safety and peace of mind.
The Manifold Benefits of Taking Your Dog Camping
Camping with dogs can be a rewarding experience. Here are a few ways spending time outdoors together can benefit you and your canine companion.
Quality Time to Strengthen Your Bond
When pet owners engage in dog travel, they bond with their pets in ways that can't always be accomplished at home. You likely take your dog for daily walks around the neighborhood or at nearby state and local parks. However, camping trips present the opportunity to go hiking with your dog, allowing it to stay in nature for extended periods of time.
Camping and backpacking trips also offer plenty of uninterrupted time for you to play and pet your dog or just relax and enjoy the surrounding beauty, which can strengthen your relationship more than leaving it behind with a dog-sitter.
Health Benefits
Dog hiking and camping are also great ways to get some extra exercise and increase your physical health. Many campsites have open, grassy areas for playing fetch or a body of water, such as a lake or stream, for swimming.
Some places may even have their own dog parks, so your pup can socialize and run around. All that movement can also help you get more physical activity than you do at home, improving your overall health and well-being.
Fresh Perspective on Nature
Camping with your dog allows you to experience nature through the eyes of your furry companion. Because dogs have a strong sense of smell, they may discover interesting things while out hiking that you might have otherwise overlooked. Being in new surroundings and interacting up close with nature may also unveil unique personality traits you never noticed about your dog, granting new perspectives into its behavior.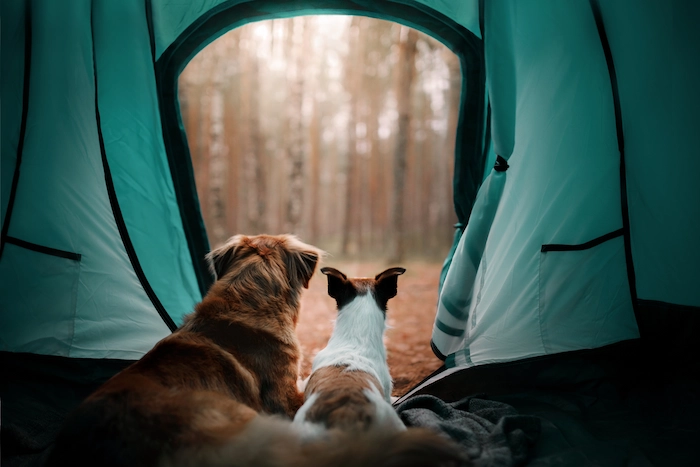 Key Considerations When Planning a Camping Trip With Your Dog
While camping with your dog is meant to be fun, choosing a pet-friendly location and packing the best dog camping gear for your pup's needs is also important. Here are some key factors to consider when planning your camping trip.
Choose the Right Campsite
Before reserving your campsite, whether at a state or national park, confirm that dogs are allowed and how close other campers will be to you, especially if you have more than one dog. You don't want to pack up your car and head out just to discover the location doesn't allow pets or the campsites are grouped so tightly that your dog won't have room to move around. It's also a good idea to check out the campsite's amenities to see if there are open areas for your dog to run around and play.
Ensure Your Pet's Safety
You don't want to leave your dog unattended when you're in a new place, especially while outside. To ensure your pet's safety, consider investing in an invisible dog fence like the Halo Collar 3. This GPS-based invisible dog fence can be controlled directly from your phone, allowing you to create customized virtual fences based on your location.
With this technology, you can set boundaries for your dog around the campsite. If your dog steps too close to a boundary, the collar sends feedback that prompts it to turn around, ensuring it doesn't wander too far and risk getting lost during outdoor adventures. Knowing your dog is safe can help you relax and enjoy your quality time together.
Pack the Essentials
When packing for a camping trip, it isn't just your own gear you'll have to bring. You'll also need to include essential items for your dog. For example, you'll need dog food, plenty of water and poop bags to clean up after your pet. A collapsible bowl is easy to pack and transport to let your dog drink while hiking.
You may want to include a dog sleeping bag and a few extra blankets, especially if the weather is expected to drop overnight. It also wouldn't hurt to pack your dog's favorite toys to prevent boredom during downtime and a first aid kit in case of injuries.
Practical Tips for a Successful Dog Camping Experience
During camp life, it's important to keep your dog safe and entertained to prevent wandering. Set up a dog-friendly camp that has everything your pup needs so it doesn't become frustrated or bother fellow campers. For example, tent camping provides shelter to keep your dog cool during hot days and gives it a quiet, enclosed space to settle down if it gets too rowdy.
There will likely be moments during the camping trip when you won't be able to give your dog your undivided attention. Bring along your dog's toys to ensure it always has something to do, especially when you're cooking or starting a fire. If you have another person with you, one can entertain the dog while the other tends to the campsite.
It can also help to take your dog on short, periodic walks around the campsite or park to prevent it from becoming too restless. This can be particularly helpful before bed so your dog can release excess energy and sleep better through the night.
Keep in mind that dogs sleep less deeply than humans, meaning it's important to ensure they're comfortable and feel safe at night. Pack a dog bed or sleeping pad your pet sleeps on at home. If this is your dog's dedicated place to sleep in the tent, it may feel more relaxed knowing it has a piece of home with it. Dog beds also provide great napping spots for your dog to rest on during the day while you're taking a break from adventuring.
Securing Your Pet's Outdoor Adventure
Dog camping may seem like a lot of work, especially because you have to pack dog camping gear in addition to your own supplies. However, being out in nature with your furry companion can be an exciting, rewarding adventure that benefits you both and strengthens your bond. The camping process should go smoothly as long as you pack supplies to keep your dog entertained and safe.
If you're planning a camping trip, consider using the Halo Collar 3 to create a dog-friendly campsite. With its GPS-based invisible dog fence technology, you can ensure your dog remains safely by your side for a stress-free nature retreat.