We all know animals love to explore, and keeping a pet inside all the time isn't fair. However, constantly opening and closing the door every time your dog asks to go into the yard is no fun. Dog doors liberate you and your pets, letting them pop outside when nature calls — or any time they want to chase their tails out in the fresh air. Here's a rundown of the different doggie doors you should know about:
Doggie Door Types
There are several types of dog door that suit different homes and pet parents, depending on their needs and preferences.
Wall-Mounted
Wall-mounted dog doors are installed into a hole in your wall as opposed to a door, which means they're usually deeper and sturdier than door-mounted frames. They might require professional installation — or a handy DIY enthusiast. Plus, if there's a shorter path to your yard through a wall than a door, this type could be ideal.
Door-Mounted
Door-mounted pet doors are the most popular and are the first image that comes to mind when many people think of a dog door. They're mounted to the lower half of a standard door but come in a wide range of models and types. Be sure to check compatibility with the material and style of door you have.
Electronic
Electronic doors are usually mounted to doors and can open and close via different mechanisms. Some are triggered by a chip on your dog's collar, while others use sensors and open and close automatically when your dog approaches. You can even get ones that let you program the times you want the door to grant your dog access to and from the yard.
Sliding Glass Doors
Sliding glass pet doors are typically installed into partially open patio doors and don't tend to require professional installation. They can be pricier than other types of pet doors because of the glass panel you need to install into the door track.
The Top 10 Best Dog Doors for Safety and Freedom
Looking for a new pet door but not sure where to start? Check out the list of the top 10 dog doors below.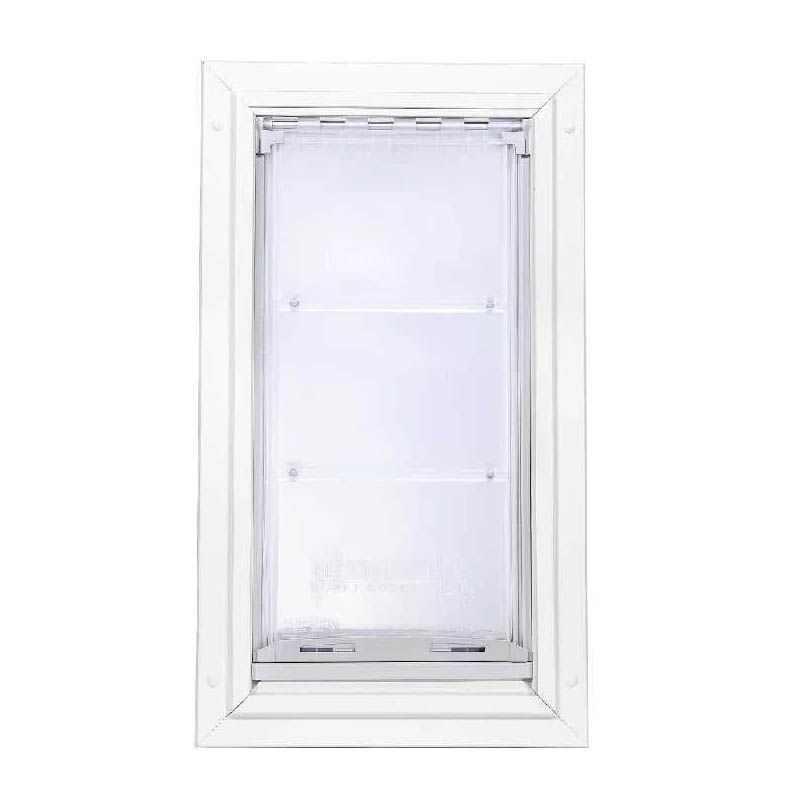 1. Endura Flap Single Flap Pet Door
Endura doors come with a 15-year guarantee and are some of the most weatherproof options available. The single flap model is door-mounted, with a hard-wearing magnetic dog flap that can withstand winds of up to 50 miles per hour.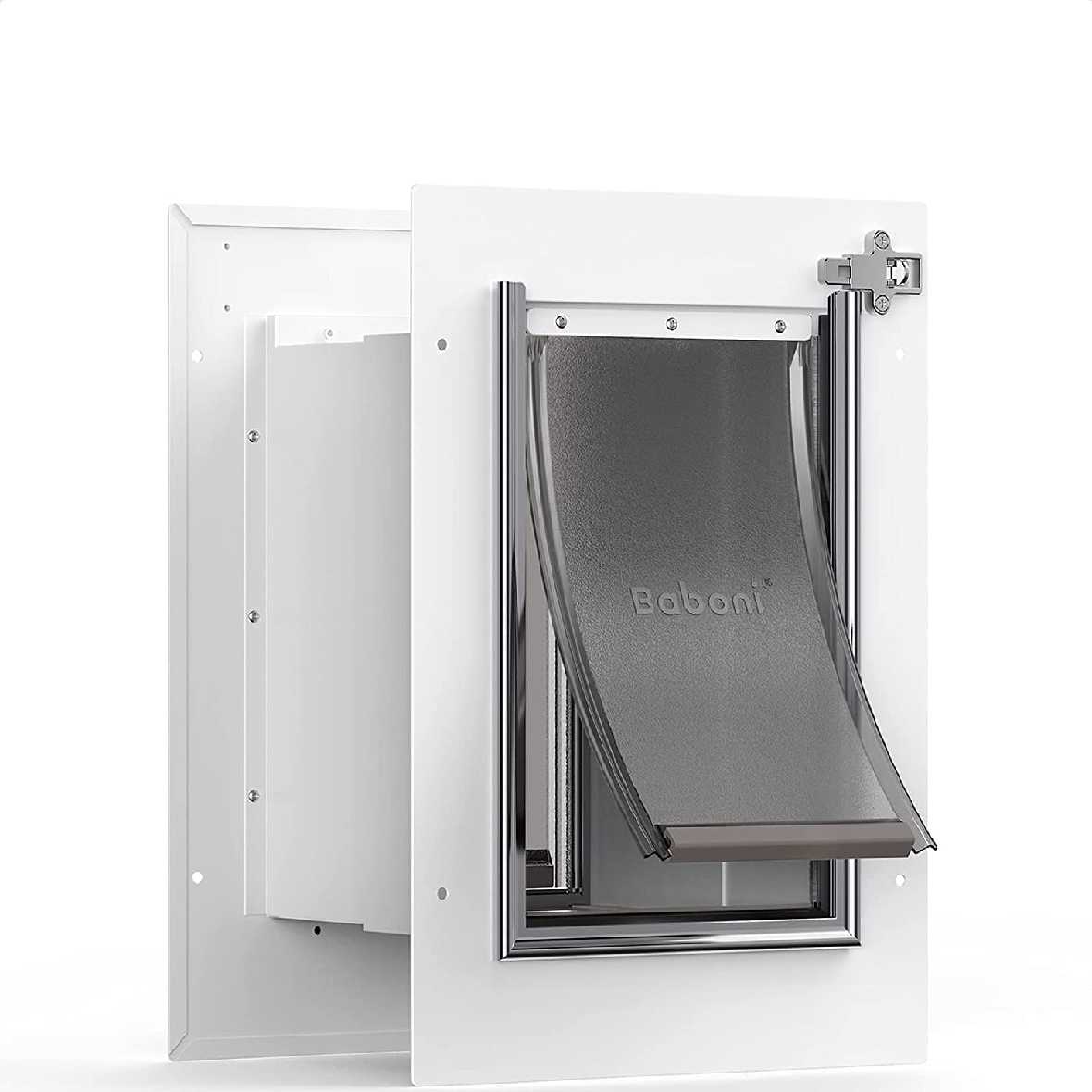 2. Baboni Pet Door
The wall-mounted Baboni pet door comes in three sizes, has an aluminum frame and is relatively easy to install. It has a double flap for energy efficiency and insulation, and it even comes with a closing panel to keep unwanted critters out.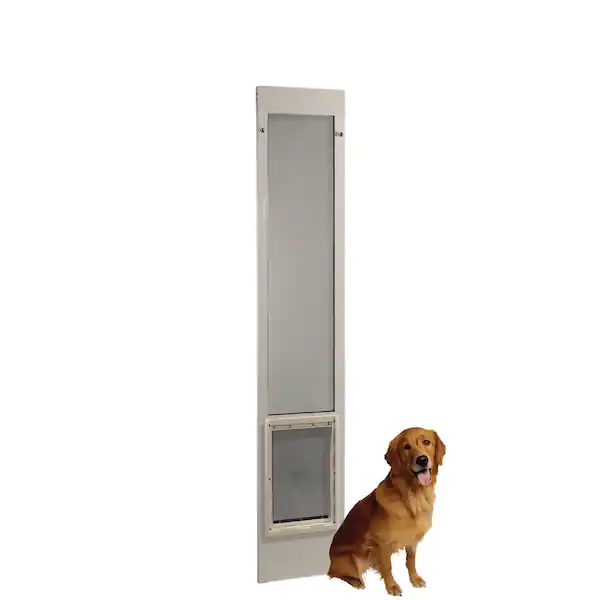 3. Ideal Pet Dog Patio Door Insert
Ideal Pet Product's patio dog door insert fits almost any type of glass sliding door and doesn't require any cutting or modification. Additionally, the lock-out panel and self-closing flap keep other critters out while letting your dog in. It's a safe and convenient way to add in a dog door to your back patio or porch.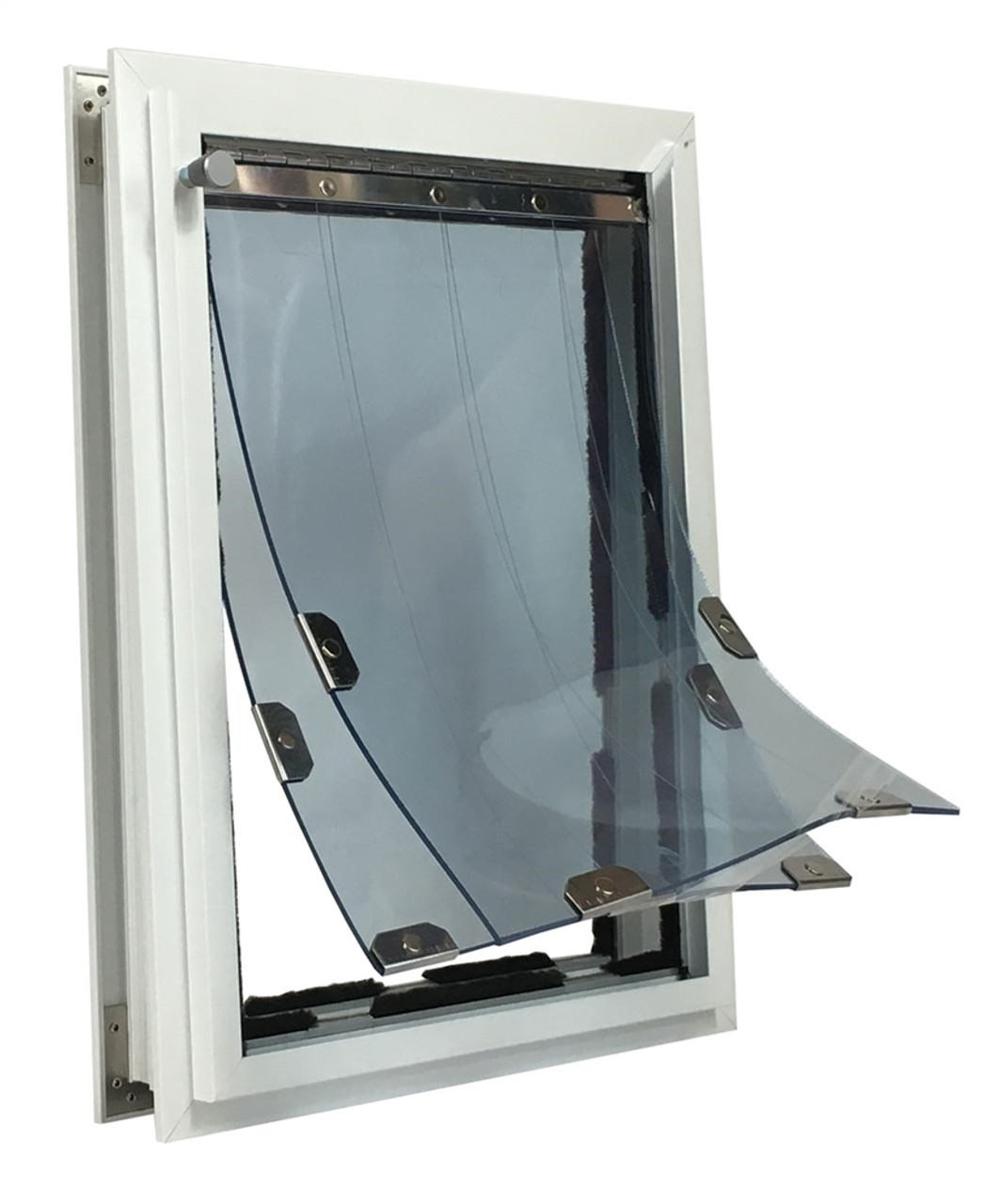 4. Security Boss MaxSeal Pet Door
If you're stumped trying to find a pet door for large dogs, your hunt might be over. The door-mounted Security Boss MaxSeal Pet Door is available in 10 sizes, including "behemoth," which is big enough for a Great Dane.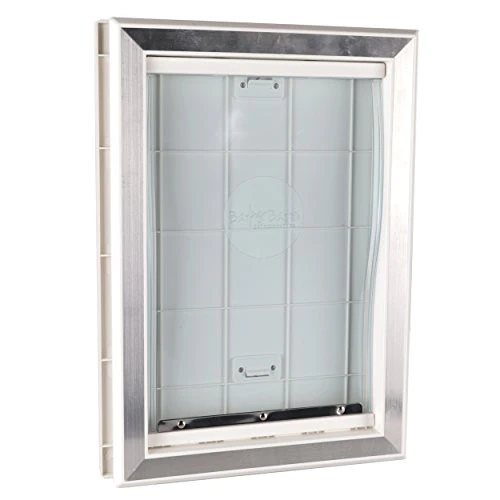 5. BarksBar Plastic Dog Door
The BarksBar Plastic Dog Door is bite- and chew-proof, with a magnetic seal to keep the elements at bay. It's door-mounted, with a self-locking panel that limits access via two-way locking.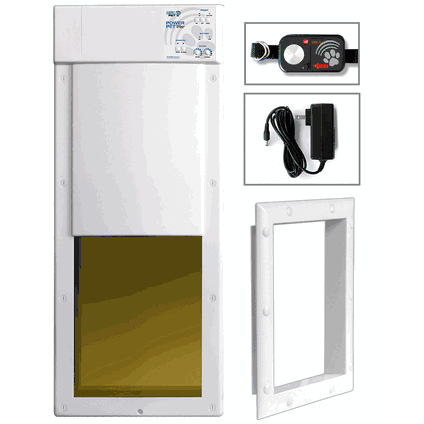 6. High Tech Pet PX-2 Power Pet Sliding Glass Door
The High Tech Pet PX-2 Power Pet is a wall-mounted, fully automatic pet door. Its excellent security features include only opening for dogs wearing a GPS dog collar and being fashioned from bulletproof resin. Another reason pet parents love it is because it's great for older or timid dogs that can't push the flap open.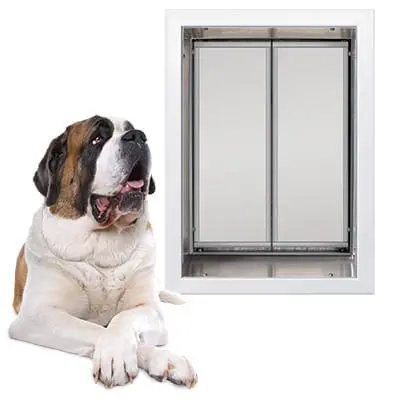 7. PlexiDor Performance Pet Doors Wall Mounted
The PlexiDor Performance Pet Doors Wall Mounted opens like double doors instead of the typical flap style, making it more energy efficient. It's durable and can be installed in practically any type of wall, including brick, stud, block and cement.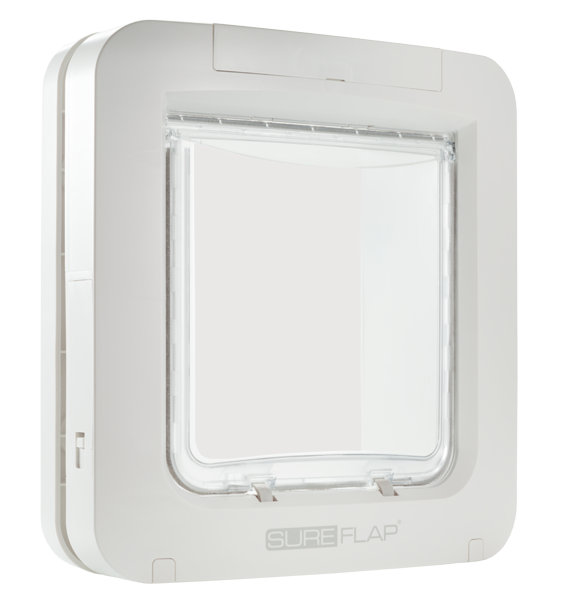 8. SureFlap Microchip Cat & Small Dog Door Connect
The SureFlap Microchip Cat & Small Dog Door Connect is made with smaller dogs (or large cats) in mind. It has "raccoon mode," which keeps strays and critters out, and animal lovers can register up to 32 microchipped pets to use it.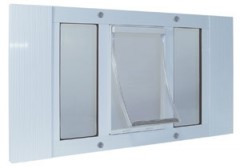 9. Ideal Pet Products Aluminum Sash Window Pet Door
This window-mounted Ideal Pet Products Aluminum Sash Window Pet Door has two spring-loaded ends to make installation and adjustments easy. Its flexible vinyl flap is great for cats and small dogs.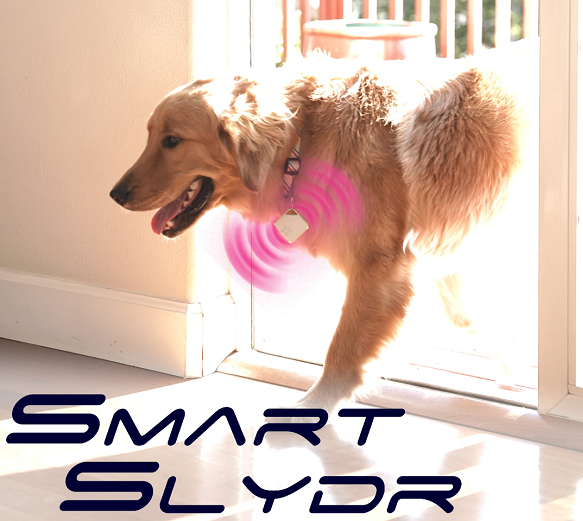 10. SmartSlydr Smart Pet Door
The SmartSlydr Pet Door uses a waterproof smart key to give you full control over your dog door. You can program it for selective entry and exit and can set a timer for auto-locking based on your schedule.
How to Choose the Best Dog Door
Now that you've got the lowdown on the top dog doors and the different styles available, let's look at how to choose the perfect one for your home.
Your Dog's Height
The first and most important consideration is whether the door comes in an appropriate size for your dog to comfortably fit through. Some are specially made for big dogs while others are specifically for small dogs, but many come in a range of sizes. The last thing you want is for your dog to get stuck in the door!
Cold Weather
If you're sensitive to cold or heat or looking for an environmentally friendly option, it's essential to focus on insulation. Triple or double flaps can help keep the elements out, and magnetic seals are best for trapping the heat or cold in.
Security
Because a dog door is essentially providing an extra entry to your home, you should carefully consider the security features of your chosen door. Smart doors that use microchips are the most secure option and come highly recommended if you live in an area with lots of stray animals or a high crime rate.
Ease of Installation
Pet doors can be challenging to install and require using tools or cutting a hole into the wall. Door- and wall-mounted models require the most work, while models built for patio doors are easiest.
Shopping for Dog Accessories? Check Out Halo Collar
At Halo Collar, we're deeply invested in keeping canines safe and happy. For added peace of mind, you can use our wireless dog fence system to create up to 20 wireless fences around your property. That means you can use your dog door to let your beloved dog roam freely in and out of the house without fear that it'll break out of the yard. Check out the Halo Collar's other impressive features and order yours today.