If you're like many people, you look forward to a stocking full of gifts on Christmas morning. You can make your treasured pup part of this exciting Christmas morning tradition by getting it a matching sock and stuffing it full of squeaky toys, games and dog treats. The best Christmas dog stocking stuffers should be useful beyond the holiday season.
See what you think of our list of the best gifts you can stuff in the Christmas stocking dedicated to your furry best friend.
Fun Dog Stocking Stuffers
1. Chuckit! Ultra Ball Toy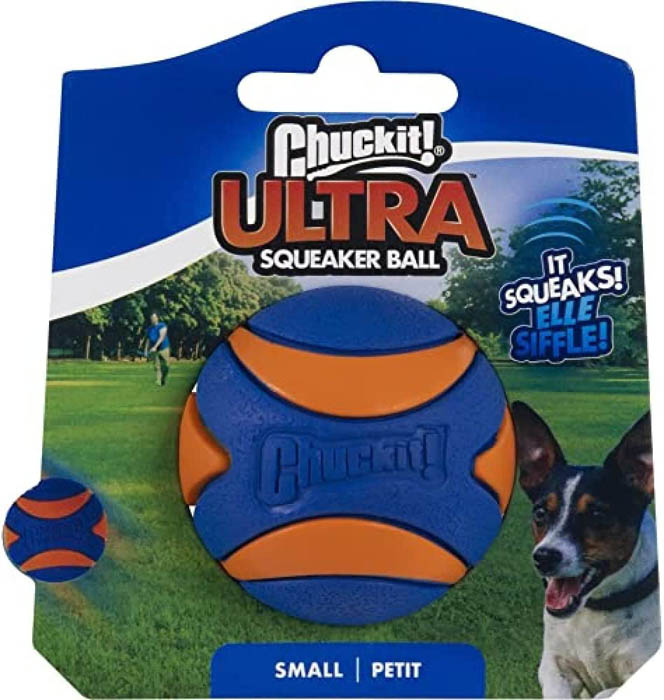 There's no better way to tap into the high energy of a Christmas morning than by getting your furry friend a Chuckit! Ultra Ball. This dog toy has a textured outer layer that can endure even the most severe bites and gnaws, making this Christmas stocking stuffer ideal for dogs of any size. The ball's extra bounce means you can entertain your pet indoors or outdoors.
2. Yeghujar 6-Pack Rope Toys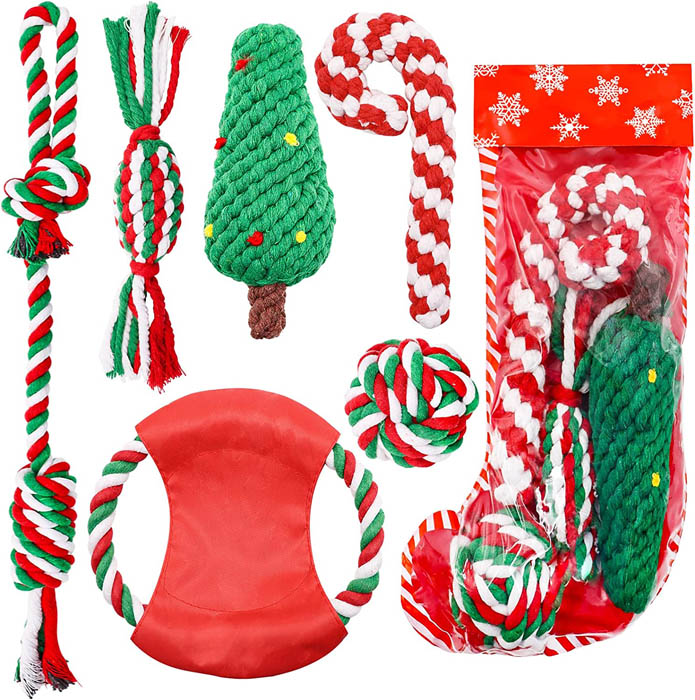 The 6-pack of Yeghujar Rope Toys can make your dog feel like a kid in a candy store on Christmas morning. These brightly colored chew toys consist of a green Christmas tree, a ball, a candy cane and rope toys knotted into different festive shapes. The dog toys are designed for small and medium-sized dogs and are great for helping maintain your pet's mouth hygiene as it plays.
3. Benebone Wishbone Chew Toy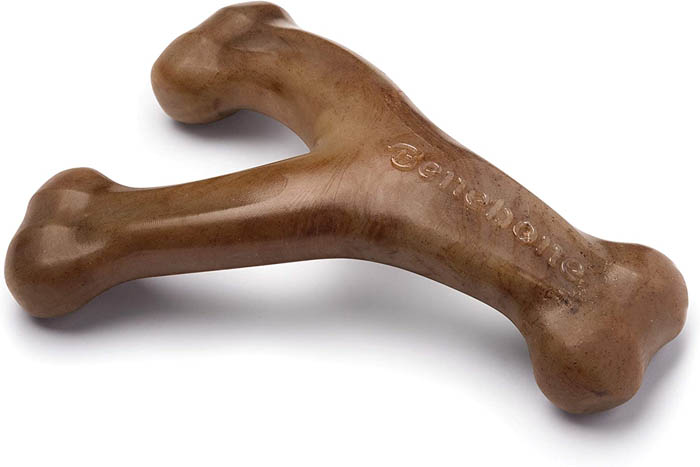 Your dog will be too busy having fun under the table to beg for scraps during Christmas dinner if it has the Benebone Wishbone Chew Toy. The dog toy is designed for aggressive chewers, whether your dog is a small or giant breed. You can pick the chew toy in your dog's favorite flavor: chicken, bacon or peanut.
Treats for Your Dog's Stocking
4. Buddy Biscuits Whole Grain Dog Treats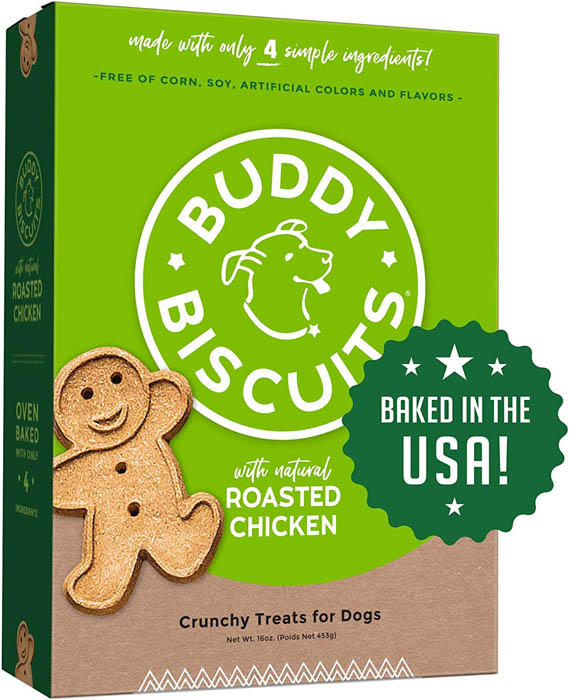 There's no better way of extending the holiday cheer to your furry friend than with whole-grain Buddy Biscuits baked in the shape of the Gingerbread Man. The biscuits are made from wheat flour, peanut butter and oil but come in three flavors to excite any dog's taste buds. You'll make your dog's day after unpacking these treats from its Christmas stocking.
5. Milk-Bone Dog Biscuits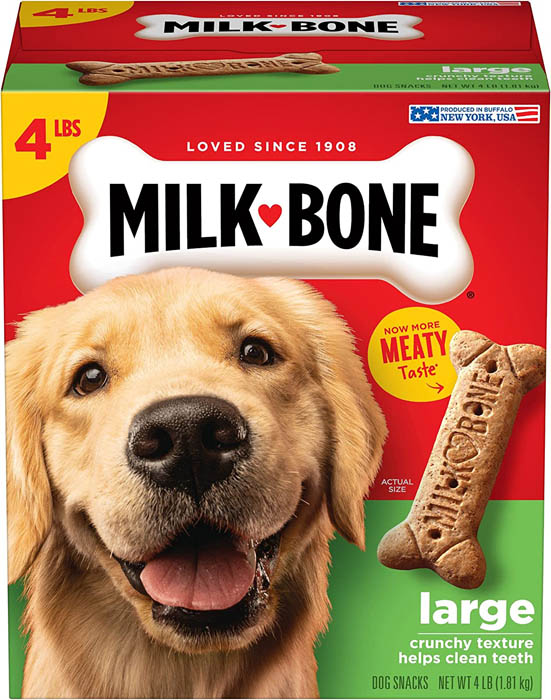 The biscuits from Milk-Bone are another great treat for your dog's stocking. These bone-shaped, crunchy biscuits are perfect for rewarding your pet. Each biscuit packs up to 12 minerals and vitamins, so you won't be feeding your pup empty calories. The texture of the biscuits also helps clear tartar buildup from your dog's teeth so you can get fresh kisses all season long.
6. Good'N'Fun Rawhide Kabobs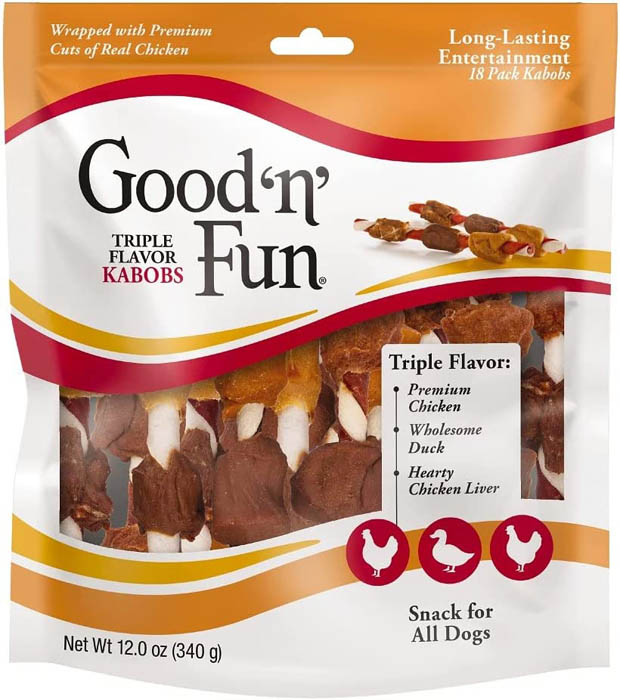 These protein-packed kabobs from Good'N'Fun make the perfect dog stocking stuffers. You'll love the look on your dog's face when you unbox these kabobs made from pork hide, rawhide, chicken and duck parts. You can indulge your dog with these throughout Christmas Day to truly make your pet a part of the festivities.
Interactive Dog Stocking Stuffers
7. Joansan Dog Puzzle Toys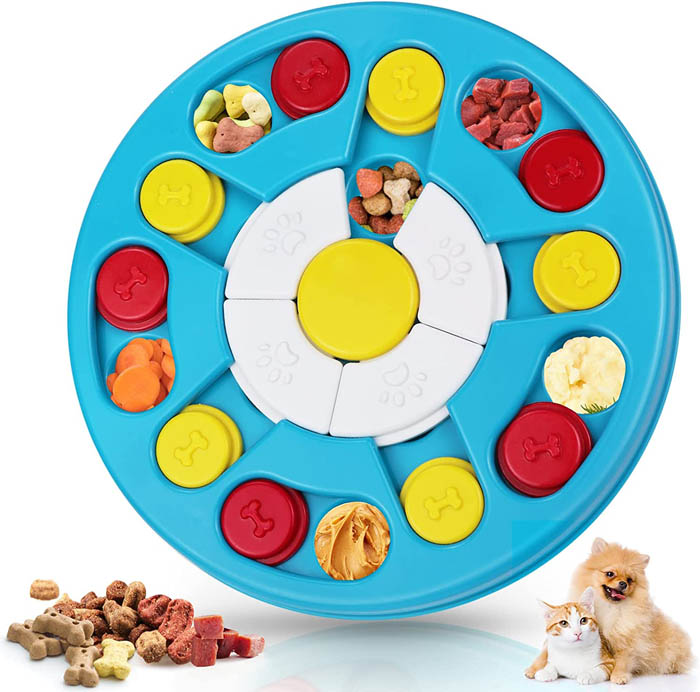 Joansan Dog Puzzle Toys keep your pup mentally sharp by rewarding it whenever it completes a puzzle. You can hide small treats in the slots and help your dog hone its sense of smell and problem-solving skills as it tries to get to the snacks. This puzzle toy can keep your pet busy and help regulate its snack intake well past the holidays.
8. StarMark Bob-A-Lot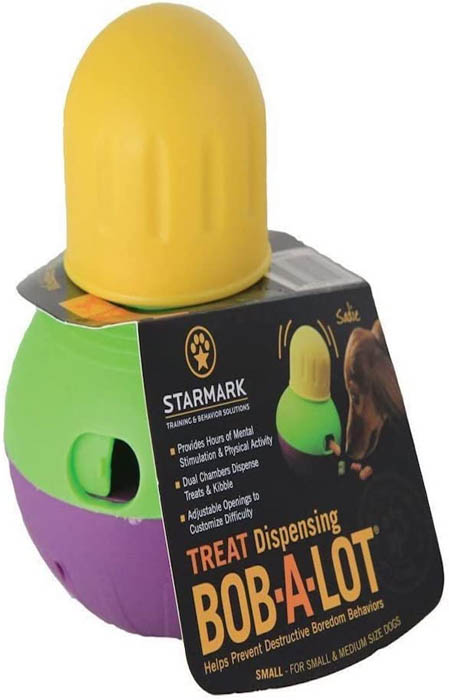 The StarMark Bob-A-Lot provides a creative way of giving treats or kibble. The ball-shaped dispenser has a spacious chamber with openings you can adjust to provide different difficulty levels for dispensing dog food. The Bob-A-Lot will keep your dog entertained and well-fed for hours on end.
9. QDAN Dog Soccer Ball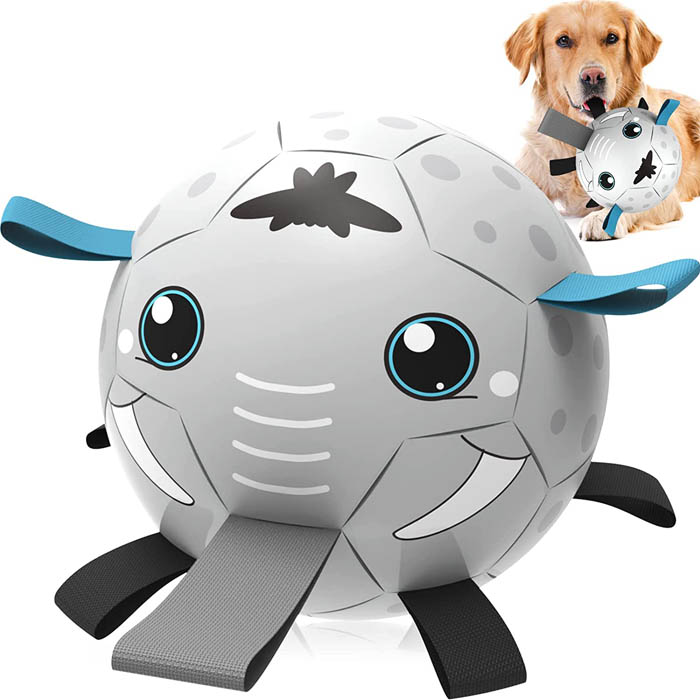 The QDAN Soccer Ball enhances playtime between you and your canine companion. It has multiple handles so you and your pet can play tug-of-war. You can fit the ball in your dog's Christmas stocking or make it part of the gifts you place under the Christmas tree. The ball's buoyant design makes it suitable for playing in the pool or at the beach.
Dog Owners' Dog Stocking Stuffers
10. Kafaka Talking Buttons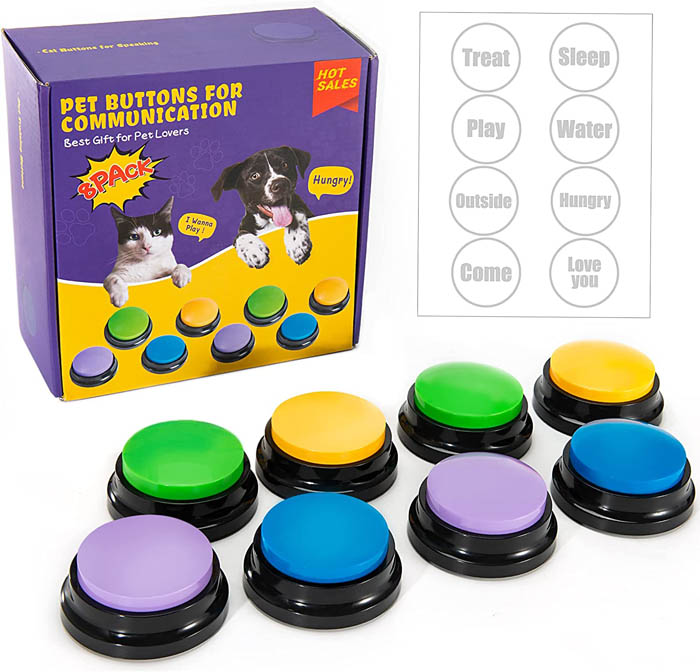 All dog lovers wonder what their pups would say if they could talk, and Kafaka Talking Buttons attempt to make that dream a reality. You can record multiple messages on these customizable buttons and teach your dog to use them to tell you what it needs. These buttons make ideal stocking stuffers for dogs and dog people.
11. Pearhead Pet Paw Print Ink Pad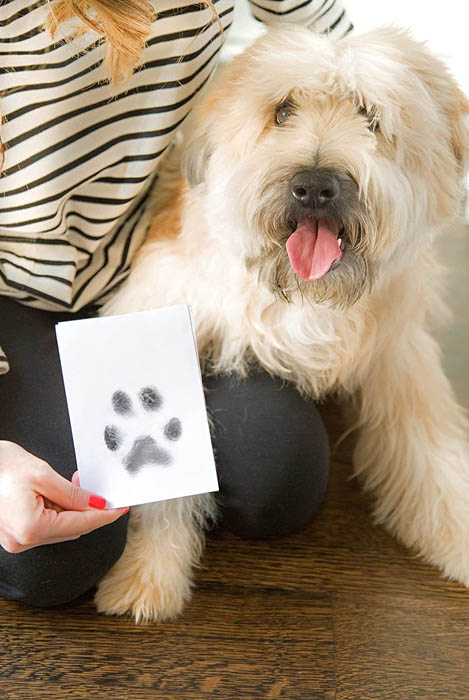 This pet paw print might be a good dog stocking stuffer, but it can also be a fun project for the whole family. The Paw Print Ink Pad helps you memorialize paw prints on two cards that you can frame and place next to your favorite picture of your dog. Gift this ink pad to dog lovers every year to help them keep mementos of their pups as they grow.
12. Pearhead Paw Print Christmas Keepsake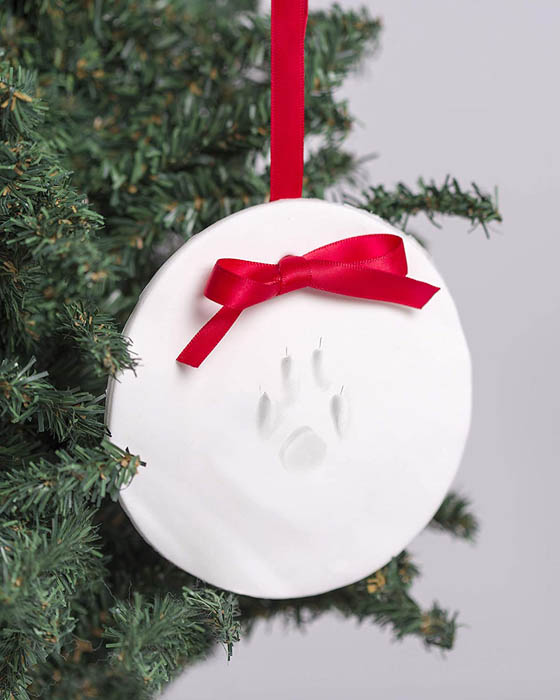 The Pet Holiday Ornament from Pearhead helps you incorporate your dog into your family's Christmas traditions. This perfect dog stocking stuffer consists of a soft clay mold that easily takes the shape of your dog's paws. The keepsake comes with a red ribbon so you can hang it as an ornament on your Christmas tree. Purchase this paw print for every dog you have to include them in your family's Christmas celebrations for years to come.
Safety Dog Stocking Stuffers
13. Halo Collar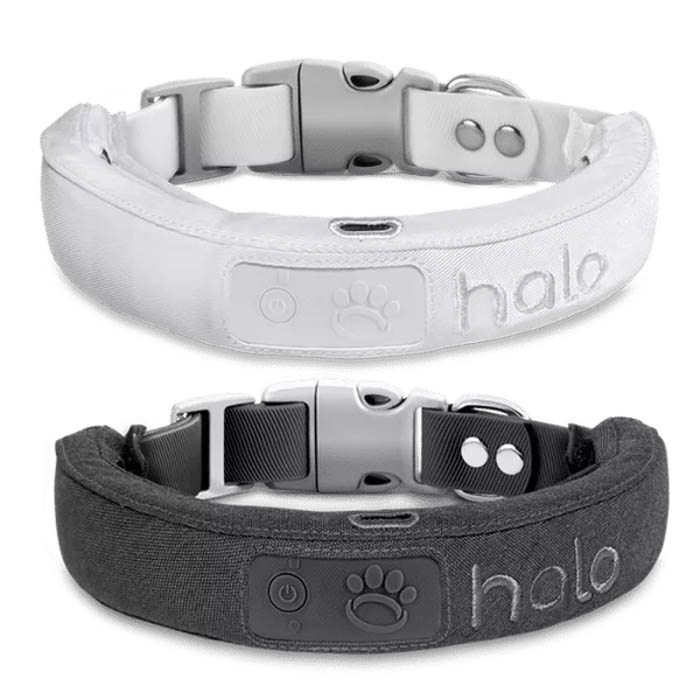 The Halo Collar is the ultimate dog Christmas stocking stuffer. This high-tech collar provides real-time monitoring of your dog to ensure your treasured pet is always safe. The Halo Collar lets you create up to 20 GPS fences through an app to keep your dog within a specific radius. If your dog comes close to going beyond the designated area, the collar issues helpful prompts to make them turn around. 
The Halo Collar incorporates the latest tips from renowned dog behaviorist Cesar Millan and is suitable for training any dog five months or older to respond quickly to prompts. Setting up a Halo Collar's virtual fences is fast and easy, so you can keep your dog safe anywhere you take them. The Halo Collar's features are automatically updated to incorporate the latest technology, making it an excellent long-term investment for your dog's safety.
Find the Perfect Gift
As you can see, a variety of fun and useful dog stocking stuffers are on the market this year. If you're having trouble deciding what to buy your favorite pooch, we recommend any of the items on this list. From interactive toys that keep pets entertained for hours to safety collars that let owners keep track of their dogs' whereabouts, these 13 products have something for everyone.
So don't wait – get shopping for the perfect dog Christmas stocking stuffer today!