Picking a dog crate for your best friend has to be a careful process. The best types of dog crates fit your dog's size, age and temperament, and responsible pet owners should research what's available on the market to keep them comfortable and safe.
It's essential to begin crate training a new puppy as early as possible to be able to take advantage of the freedom that Halo Collar provides when the puppy is 5 months old. So of course, as a good dog owner, you want to know which crates are the best.
Whether the dog crates you're looking into are for use at home, at a friend's house or for airline travel, most dog crates are safe enough to use for any dog of an appropriate size. With all the dog crate options currently on the market, going beyond a good dog crate to a great one is mostly a matter of knowing what you're looking for.
How to Pick the Best Dog Crate
Before you settle on the best dog crates for your pets, think about how you plan to use it. A durable dog crate that's built sturdily and has a lot of room is appropriate for at-home use, while you might want a soft-sided dog crate to take to other people's houses or an airline-approved dog crate for long-distance travel.
Whatever its intended use, your dog crate needs to be large enough to comfortably hold your dog with enough room to spare so it can change position. A puppy crate generally works for small dogs too, though you may need more room as your puppy grows. Medium-sized dog breeds can be kept in medium or large kennels, with enough room for them to stretch out. Extra-large dogs can be a challenge, though at-home kennels can be built large enough to fit and have roller feet to make them easier to move. Nervous dogs, destructive dogs and large dogs should generally have a larger crate, which can also help with separation anxiety and prevent self-harm while the dog owner is away.
Crates can be made from several different common materials. While there are variations and lots of designs use multiple materials, your choices typically are:
Wire dog crates
Wooden dog crates
Plastic dog crates
Soft dog crates
Heavy-duty dog crates
Wire Crates
Wire crates are a good short-term option for almost any breed of dog. They're typically strong and lightweight, they're well ventilated and they tend to be easy to assemble. Folding metal dog crates can be kept under a bed or in a closet when not in use, making these a good choice for dog owners trying to train their pets indoors.
Wooden Crates
Wooden crates are made from natural materials and can be a good choice for dogs that are prone to gnawing or scraping behavior. They also tend to be durable and solidly built and can be made to go with almost any home decor. If you're looking for a kennel that will be a permanent part of your living room furniture, a wooden dog crate can be an excellent choice.
Plastic Crates
Plastic crates are generally less expensive than other types, and they work well as travel containers. Larger ones have wheels and a handle for easy transport, such as through an airport, and they may have a front-and-back double door design or slide-out tray.
Soft Crates
Soft-sided crates are typically made from vinyl, nylon or another flexible material. A soft crate can be easily folded and stowed away, even in the trunk of a car while you're traveling. They may be closed with a soft mesh, and they may have a zip closure made from high-quality materials like stainless steel. A soft-sided crate usually works best for small and medium sizes of dog.
Heavy-Duty Crates
Heavy-duty is an option for larger breeds. If you have a large dog, you probably need a durable crate with steel mesh wire that can hold up under biting. Even a calm dog can lean against a flimsy door and pop it open if it's not built strong enough.

The 6 Best Types of Dog Crates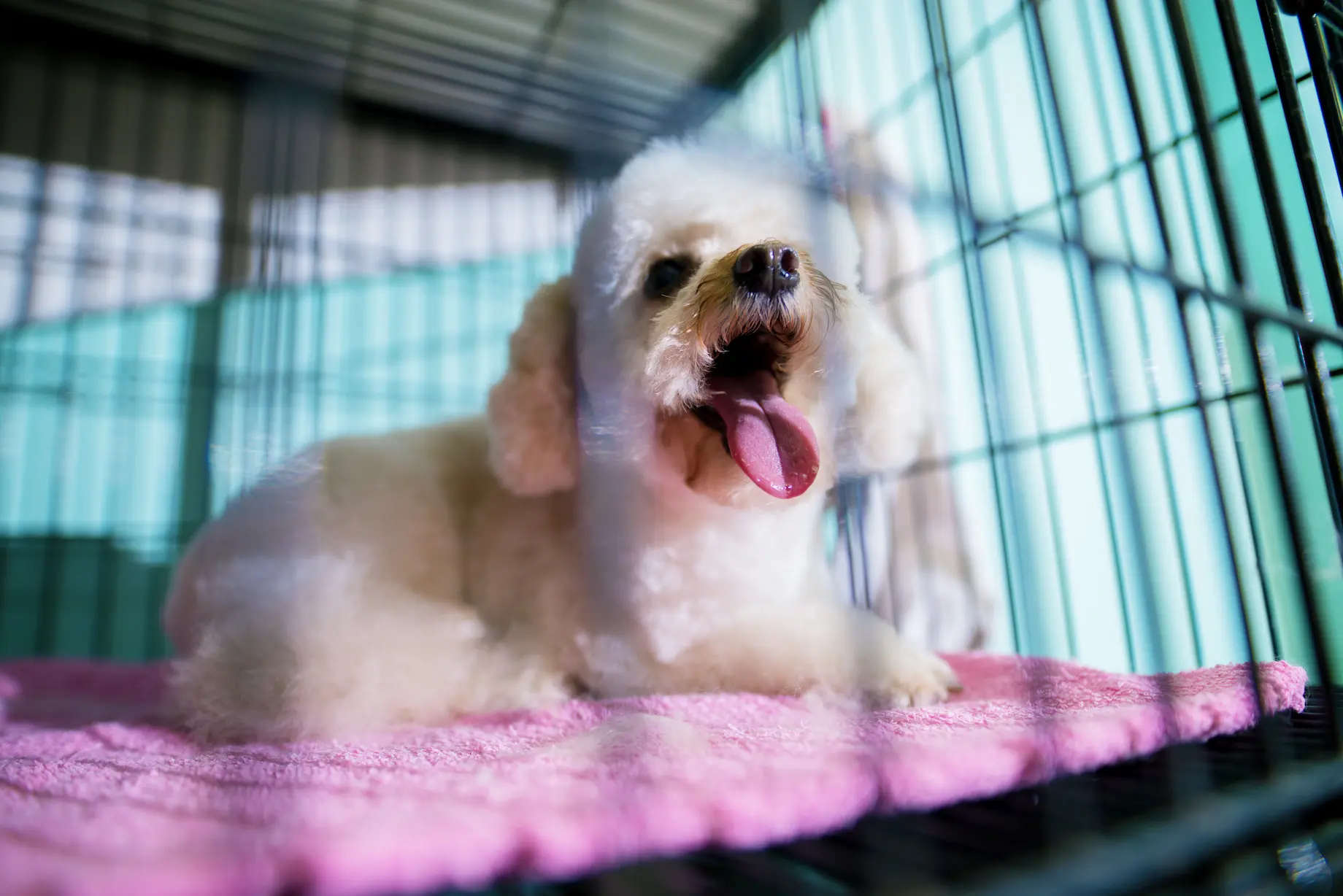 Best for Puppies
Petmate Ultra Vari Kennel
The Vari Kennel is a high-quality dog crate often used for dog training and travel. Its smooth plastic interior is great for pet safety during bumpy road trips and is easy to clean. Good for medium-sized dogs and smaller breeds alike, this is an all-around best crate for puppies and nervous breeds prone to gnawing.
Life Stages Double Door Folding Dog Crate
This Life Stages model is the best configurable crate for growing puppies and use with multiple dogs of different sizes. This model comes with an interior divider that helps you manage the space inside for smaller dogs, and you can expand the crate space inside as the dog grows.
MidWest ICrate Double Door Folding Metal Dog Crate
The Midwest ICrate starter kit has a lightweight steel and mesh construction and comes in both single- and double-door designs. You can order them in multiple sizes and crate features that include a removable tray and divider panel. This is one of the best choices for basic puppy needs.
PetNation Indoor/Outdoor Pet Home
This soft dog crate works both indoors and outside. It's the best crate for puppies that need a soft carrier, but the heavy weave of the fabric resists wear and tear. The impermeable interior is also easy to wipe clean, making it even better for young dogs.
Petmate Two Door Top Load Pet Kennel
This model is ideal for puppies and small dogs, and it has a top door for lowering a reluctant dog or cat into it without upsetting them. This is a hard-sided new crate that's among the best for top loading and makes a decently large crate for your puppy's growth.

Best for Small Dogs
Frisco Plastic Dog & Cat Kennel
The Frisco Plastic Dog & Cat Kennel is a great choice for cats and small dog breeds alike. This lightweight crate has a collapsible folding handle on top and a tough wire mesh gate. Inside, a small moat helps keep paws dry in case of accidents.

Best for Medium Dogs
Ultima Pro Two Door Folding Crate
Portable and easy to assemble, the Ultima Pro is ideal for most medium breed sizes. This folding metal dog crate has an updated locking system and leakproof plastic tray, as well as smooth roller feet to protect your floor.

Best for Large Dogs
LuckupHeavy Duty Dog Kennel
Big dogs need a heavy duty dog crate, and the LuckupHeavy Duty Dog Kennel fits the bill. This sturdy crate has a solid frame made from industrial corrosion-resistant steel that's coated with a nontoxic finish that won't harm pets. A big front door is easy for large breeds to pass through, and the hinged top provides access from above.

Best for Anxious Dogs
SmithBuilt Heavy Duty Dog Crate
SmithBuilt makes heavy-duty dog crates in a variety of sizes, with 3/4-inch frames reinforced with 1/2-inch welded steel doors. These crates are made from commercial-grade steel and are some of the strongest metal crate designs on the market. Available in sizes from 36 to 48 inches long, this family is the best heavy-duty choice for anxious or aggressive dogs.

Crates for Travel
Petmate Sky Kennel
The Petmate Sky Kennel is the best airline approved carrier, with a heavy-duty build and durable plastic walls that can stand up to the rigors of airline travel. This crate is approved for use on most commercial airlines, and it comes with some air travel-friendly features, such as "Live Animal" stickers, ID tags and clip-on bowls.
Diggs Revol Dog Crate
If your dog has come to appreciate the lap of luxury, you can't do better than the Diggs Revol dog crate. This collapsible crate comes with rollers and a convenient handle, an interior divider and a tray. These crates have comfortable interiors and accommodate extra-big blankets for extra comfort.