Hi, Halo pack members!
Our newest firmware release, version 0.2.8, includes very important upgrades to your Halo Collar's location accuracy, indoor/outdoor detection, and beacon behavior. 
Now Introducing: New GPS Accuracy Data
Version 0.2.8 will improve location accuracy, especially when your dog first goes outside.     
We are providing your Halo Collar with an additional data system that will help it locate itself much more quickly every time your dog goes outside – and position itself more accurately everywhere it goes.

This data will be downloaded daily when your collar is charging and connected to Wi-Fi.

Your Halo's "GPS" LED will turn solid PINK for about one minute while it receives this data.

With this new solution, your GPS position accuracy will be 5 times more accurate. It will also provide a nearly instantaneous position fix when going outdoors. For the greatest benefit, we recommend that you charge your Halo while connected to Wi-Fi daily so your collar always has access to the most up-to-date satellite data. 
Indoor/Outdoor Detection
We know your dogs like to move inside and outside throughout the day. To avoid indoor preventions when your dog's Fence mode is active, Halo's advanced algorithms intelligently distinguish whether it was indoor or outdoors using data from the GNSS satellites. Based on work by our research and development team, we have enhanced our automated indoor-outdoor algorithm to provide even better results. 
When your dog is indoors, their Pet Card will say "Indoor GPS" under "Collar Status". This feature automatically pauses Fence feedback while your dog is inside.

We have introduced "Hybrid GPS" mode, in which your Halo Collar will still track its position, but will only apply encouragement feedback – to avoid confusing your dogs in cases where the GNSS data indicates that the Halo is transitioning between indoors and outdoors.

The new algorithm is highly accurate for most users after their collars get upgraded. However, your house or location may still require customized indoor/outdoor thresholds. If this is the case, you can now custom-configure each collar's indoor/outdoor settings to your property by

following the steps in this article

.
Reminder: In some uncommon cases, satellite signals may "bounce" into your home through windowed areas. This may cause fluctuations in your Halo Collar's interpretation of indoor vs. outdoor location status. The indoor/outdoor algorithm makes this process automatic for almost everyone, but as a backup, you can still set your Halo Fences to "ignore" while your dog is inside.
Beacon Behavior
Based on training and user feedback, we have modified the collar's response to Halo Beacons to more closely resemble its response to fence warning areas. Like before, when your dog enters the Beacon warning area, the Halo Collar will provide Warning Feedback; if your dog ignores that warning, then it will result in both Warning and Boundary Feedback. Unlike Fence warnings and boundary feedback, you will not receive in-app notifications for Beacon feedback.
So what's new?
Beacon feedback will now stop:
when your dog stops moving (showing a response to the Beacon), OR

when your dog turns around and returns to "safety" (showing a response to the Beacon), OR

when your dog leaves the "exit radius", which is a larger ring around the Beacon. 

Note: This ensures that if your dog does not respond to the Beacon, its feedback will still stop if your dog moves far enough away from the area.
See the animation below for examples of how the new Beacon logic will work in different scenarios.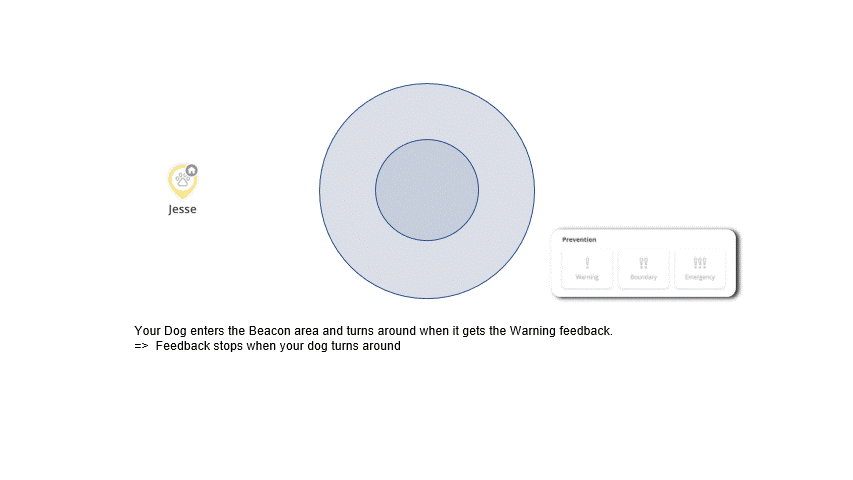 Thank you for your continued feedback! Please let us know about your experience with these new changes. 
Sincerely,
The Halo Team